is a conference centre of the Academy of Science of the Czech Republic.  It is one of the most compact monuments of the Bohemian high Baroque designed and built in years 1699–1706 by Italian architect Giovanni Battista Alliprandi for count Arnošt Josef Pachta from Rájov.
Social event includes classical concert, rich buffet dinner, wine tasting and bus transportation from the Conference venue to the castle and back.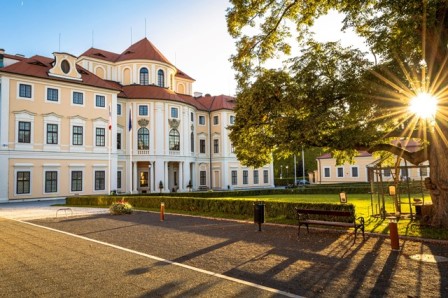 Vilém Veverka Trio:
Vilém Veverka – band leader, oboe
Martin Hybler – keyboard
Ondřej Štajnochr – double bass
The oboist Vilém Veverka (born in 1978 in Prague) is one of the most acclaimed Czech musicians. He studied at the Prague Conservatory (with F. X. Thuri), the Academy of Performing Arts in Prague (with Liběna Séquardtová) and attended several master classes given by the renowned French oboist Jean-Louis Capezzali.